A sample of photos from recent days.
This week we made silver wedding rings for one another at
ArtLab
in Chiang Mai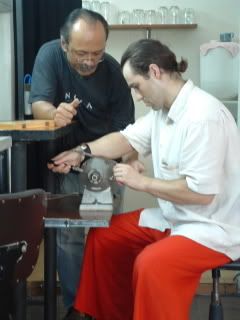 R polishing my ring under instruction by Mr. Jaturanon at ArtLab
And I'm looking more like a red-dyed Russian than ever, using a blowtorch as I make Roy's ring.
Now we're getting ready to sign some papers on the lovely, lonely off-season beaches of
Koh Lanta
in southern Thailand.