Note: These photos are hosted in different places, so sizes may not be consistent
Getting married in Thailand - for people of two different nationalities like Roy & I are - is actually simpler than it would be in our own countries.
We got affadavits from our respective embassies, saying we were free to marry and had no dependents.
Then we went to
Express Translation
in Bangkok, where we had all our documents translated from English into Thai: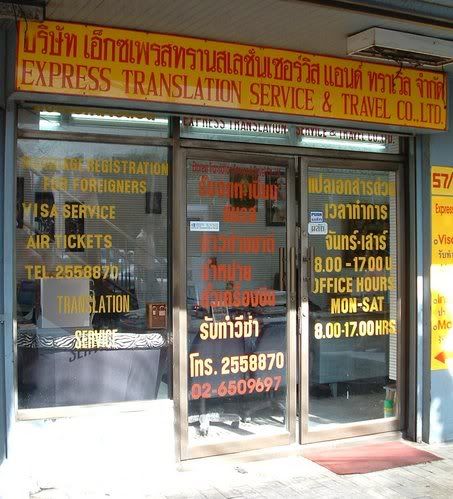 We planned to take a motobike into Krabi, a 100+km ride, to what we thought was the nearest Amphur [City Hall] to get married. The night before we were to go, the receptionist at our hotel said, "Why not go to Koh Lanta Noi? They have an Amphur there."
The day before our drive over to the next island, we took a test spin around Koh Lanta Yai (where we were staying) on a motobike: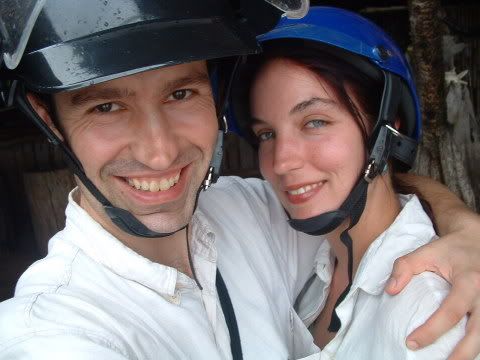 The morning of our wedding, we had a few photos on the beach, taken by the rasta guys who run the friendly Kantiang Bay View resort: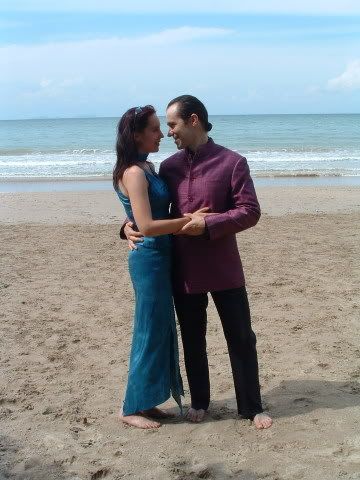 It was an excellent place to stay: we'd walk down to the beach every day, or drive up the road into fields of rubber trees and a sea gypsy village.
Our clothes were made from hand-woven Cambodian fabric: R's of raw silk, and mine of the many
blueprint
photo trials I've printed on silk recently. What to do with all of these silky blue pieces of fabric? I'd wondered back in July. Why not have them made into my wedding dress?
So a local tailor made the dress from my sketchy drawings, in 2 days. R's jacket was made in Bangkok.
After taking morning photos on the beach, I pinned up my skirts and sat sideways for the 27km trip to town, to catch a ferry to the Amphur.
Longtail boats have a beautiful design, and this was our first time on such a small ferry,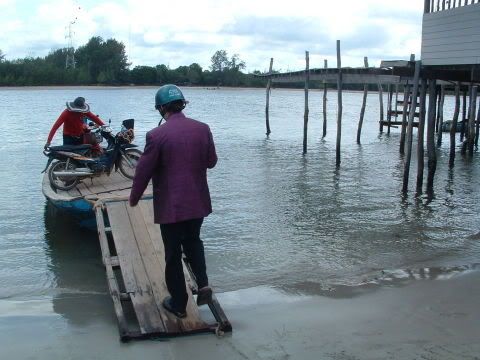 The longtail boat captain insisted on driving our motobike onto & off the boat:
R. at the end of the road on Koh Lanta Noi. He had to drive up a sandy beach to get to the only road on the island, to the nearby Amphur.
And we finally arrived at the Amphur
Outside the Amphur, straightening our clothes, I found the right angle to get both of us in the photo:
Wore a scarf to cover my shoulders: protection from the sun and also as Koh Lanta, like Phuket and many other islands in the region, is predominantly Muslim.
We walked inside, having no idea where to go. Of course there were no signs in english. Went into the air-conditioned office, which turned out to be the tax-paying department. They laughed at us, once they discerned what was going on, and took us to the marriage office on the other side of the Amphur.
There were no problems, the only glitch was translating my birthdate from our western Gregorian calendar to the Thai Buddhist calendar.
After we were given our marriage certificates, I asked the man, "How much for the service?" In Koh Lanta Noi, the official said, there was no charge at all.
We grinned, and went outside. Drove 300meters to where the asphalt ended at a deserted beach. Guidebooks say Koh Lanta Noi is of no interest to tourists and completely surrounded by swampy mangroves. We suspect they've left out any mention of these beaches, so they're not overrun by tourists like us.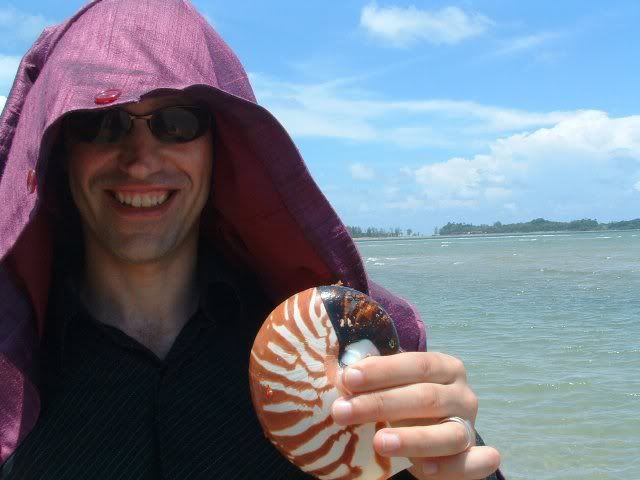 We exchanged the
rings we'd made in Chiang Mai
, barefoot in warm clear water: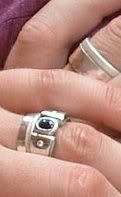 (What pudgy, wrinkly things my fingers look, especially from a close-up!)
Stumbled across a seafood restaurant in a remote part of the island, so stopped for lunch: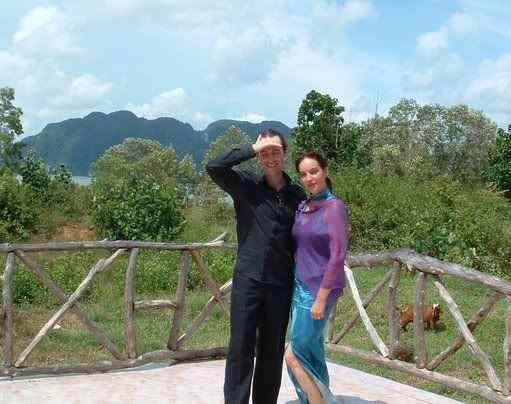 A reddish sunset - with the strange colors digital photos can give you
But this sunset was truly radioactive: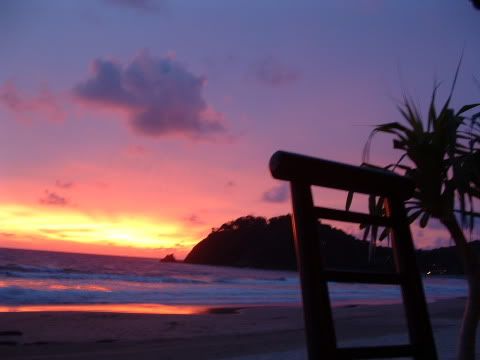 A blue sunset? It just looks that way
At our wedding dinner: plenty of champagne, drunk with toes in the sand, and an incredible sunset with better company than I'd ever imagined I'd meet.
Now we're in the historic town of
Malacca
, Malaysia, staying at historic Hotel Puri
Hotel Puri
. Just another week or so together before I go back to teaching photography in Cambodia, and R will head to Hong Kong.