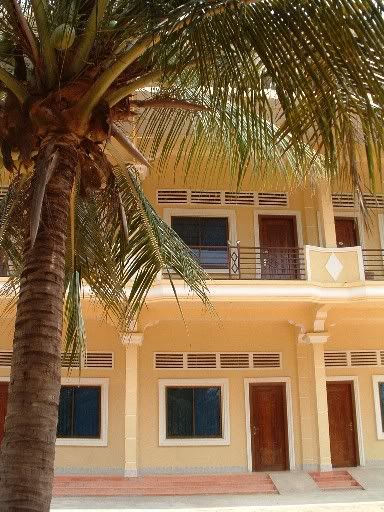 My House: near such amenities as the Butterfly farm, the French Cultural Centre and even Hollywood Massage. Hollywood's the flashiest of the many brothels on that road, the one with Chinese lanterns swaying in the breeze
Last night for what seemed like hours in the elastic time that spreads itself between midnight and dawn, I woke up to sounds of barking and screeching in our dusty yard. For the second night in a row. It was a truly disturbing series of screaming barks from one dog's throat as it was attacked by another. They were insistent, unceasing, relentless. It wasn't from play-fights or noisy mating one hears on a daily basis down the dirt path leading from our house.
Awake and langorous not only from the heat but having plenty of hours for sleep that night, I walked half-dressed and half-awake to the terrace overlooking our yard. A group of dogs was growling in a quarterback huddle, circling a black puppy next to our "DUSKBIN".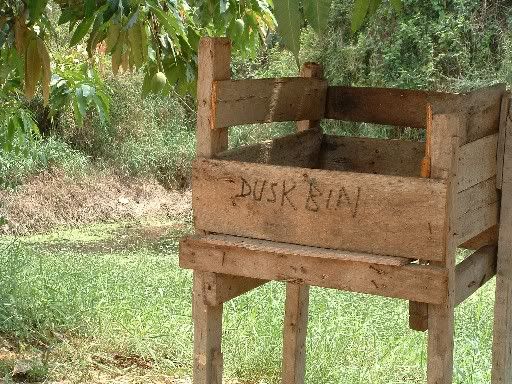 The "Duskbin": our rubbish is tossed into the ditch a few feet away and burned every evening; this is common in Cambodia
They were all male, of course, destroying the potential threat the puppy presented to their dominance. There was nothing personal in their act of killing it, though it's likely the victim was a relative. They attacked the puppy with the precision and dedication of vultures, lunging at him over and over again. He shrieked and whined at an excruciating pitch. It was this that had woken me the past two nights. Was it the same victim? I wondered.
Suddenly one of the dogs, a ginger-spotted mongrel with cream coat, grabbed the limp black puppy - it was dead now - and ran past the jackfruit tree to our neighbor's wooden home. I know this dog; when anyone's within a yard or two it jerks back nervously, cowed like most other dogs here (I'm not sure if they're bred or beaten to be this way) but howls and barks like a maniac at any perceived threat that's a safe distance away.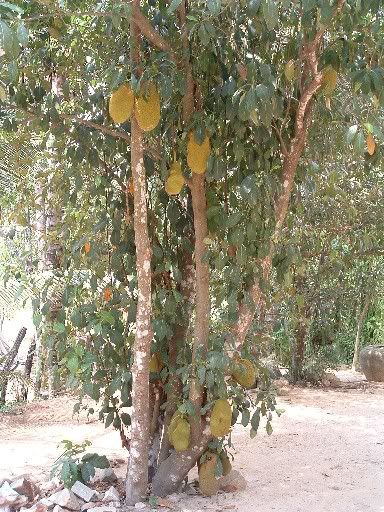 Our jackfruit tree
The other dogs remained at the foot of the Duskbin, worrying at another lump of fur. This puppy was nearly silent, but not dead yet. It tried to clamber up the duskbin into the mango tree, but I couldn't tell if it was tied up or simply tangled in a rope tied to the dustbin. Either way, it didn't last long. The older males got to it eventually, and ripped it to pieces in the dirt.
I went to sleep remembering a debate R and I had had on whether dogs should be "fixed". What happened last night was "natural" - thanks to instinct and hormones and all the other elements that go into the ever-changing cocktail of animal behavior. But it was also one of the most cowardly acts I've witnessed in years: adult males ganging up on a pair of puppies because they were threatened by them. Sure, that judgement is a projection, and it's going to happen because that's how dog behavior works most everywhere.
Still, I'm an advocate of dog/cat castration (ooh, that word brings a chill, doesn't it?) & spaying. Simply stated, there are too many dogs in our neighborhood, so they're carrying out their own brand of population control.